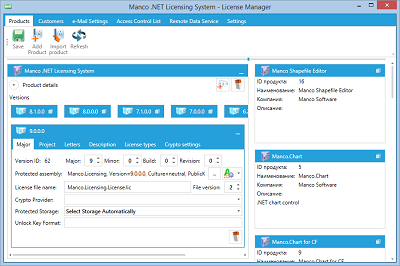 Manco .NET Licensing System is the powerful licensing and copy protection software for .NET Windows Forms, WPF, WCF, WWF and ASP.NET applications, controls and components. It consists of 9 major parts:
Protection library performs all operations on validating license rules, like test license expiry or check Unlock Key validity. Protection library is available for .NET Framework 2.0, 3.0, 3.5, 4.0 and .NET Compact Framework 2.0 and 3.5.
Data Service is the single access point to the database with licensing data. This is the WCF Data Service which provides data for License Manager and Activation Web Service. It can be hosted internally in the License Manager or in the IIS as web service.
License Manager is the full functional application for complete license and customer management. It provides functionality on integrating protection to your product and allows synchronizing data with remote Data Service.
Activation Web Service is the web service that allows online product activation and validation. This product can generate Activation Keys that binds software licenses to the particular PC. It also can communicate with e-Commerce services (like RegNow or ShareIt!) in order to create necessary software licensing information like Unlock Keys and/or license files.
License Shop is the web-based (Silverlight) tools for complete customer and license management. Using it you can issue licenses and keys outside your office just using any Silverlight-ready PC.
Floating License Web Service is the web service that allows centralized license distribution and concurrent using of licenses. It can be installed either into your client's network or on your side.
Database Manager is the application which install new or upgrade existing database, and allows copy licensing data from one database to another.
Protected Storage Cleaner is the free application which can be installed to the PC and/or servers which are used to test protected application and which need not to have License Manager is installed in. It is used to clear protected storage from the old licensing data.
Encryptor is the console application which performs encryption operations from the command line. It makes possible automation of the encryption during application building process (from the Visual Studio, for example). This application uses the same license as License Manager use (share it with License Manager). Using of this utility is allowed in the "Professional Edition" and high.
For more details on Manco .NET Licensing System and its very flexible licensing schema you should look at Manco .NET Licensing System page
Manco Shapefile Editor is a powerful and very convenient tool for creating and editing ESRI Shape and KML files and all corresponding data.

Major features of the Manco Shapefile Editor:
Convenient editing of shapes geometry. Almost like in any vector graphic editor.
Edit corresponding data "on the fly". For editing single shape's data you just need to select it.
You can edit multiple shapes and multiple layers simultaneously. You can edit geometry of multiple shapes at one time.
Multiple layers can be saved as a single project, with corresponding z-order of the layers.
Layers can be exported to the popular geospatial data formats. ESRI shape files and KML are supported currently.
Vectorization tool allows you to create a layer from any image (map or floor plan), edit and then save it using supported geospatial data format.
Data editing is really simple. All you need to do is just to select a layer and edit data in the table. There is a specific convenient editing template for each data type in table.
Predefined shape libraries. For your convenience the shapes which can be placed over the map are organized into the libraries. You can use existing libraries of the shapes or create your own for particular tasks. For example, you can create shape library for floor plan which will include typical elements like doors, windows, tables, chairs and so on.
Deep integration with Telerik RadMap control. Projects created with Manco Shapefile Editor can be easily loaded into the RadMap control in your application.
To find out more details and buy Manco Shapefile Editor you should visit Manco Shapefile Editor page
The Manco.Chart for .NET
The Manco.Chart for .NET is the solution to add feature rich charting abilities

to Windows Forms and ASP.NET applications. Over 40 2D/3D charts are available. Flexible areas filling, scaling, legends, grid, context menus and drill-down. Uses OpenGL (3D) and GDI+ (2D) for fast-rendering charts. Package includes Manco.Chart for .NET itself, chart configuration controls, and arts to decorate chart area. For more details look at the Manco.Chart for .NET v 4.4 for .NET Framework 2.0.
Manco.Chart for Compact Framework

Manco.Chart for .NET Compact Framework is available now. This is the perfect solution to add the most advanced, feature rich charts to the applications written for .NET Compact Framework platform (Windows Mobile). Over 25 major 2D charts are available, such as traditional area, bar, column, line and pie charts, financial bars and Japanese candlesticks, Kagi and Renko charts and others. Flexible areas filling, scaling, legends, grid, context menus, and drill-down. Manco.Chart for Compact Framework allows using data from the XML, array of doubles, DataTable and Data View object. For more details look at the Manco.Chart for Comact Framework v 5.0
Smart Chart Designer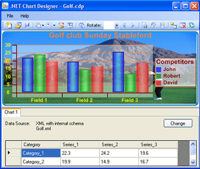 Smart Chart Designer is a comprehensive charting application that uses whole power of the Manco.Chart for .NET version 4.4. More then 40 chart types support multiple modes, meaning that literally hundreds of different styles and types are available for users. The legend can be flexible integrated to the chart area. The multi-line headers and the rotated labels are supported. The chart layout (titles, fonts, colors, labels' escapement etc) can be stored in the file and reused with a different data, so you can easily manage style of your charts. Themes in the Smart Chart Designer are the real building blocks of the chart layout. By using themes you can create desirable view of the chart during a few seconds. The number of ready to use chart themes is provided with installation package. See the 'Art\Themes' subdirectory in the installation folder for theme files. You also can create your own themes and use it with your charts.
Manco Mobile Lines

Manco Mobile Lines is a very interesting game with simple rules. It is designed for the .NET Compact Framework 2.0 and can be used with any mobile device (PDA or communicator) that supports 240x320 screen resolution. Rules are very simple: click on the colored ball on the game field. Selected ball starts jumping. Click on a free cell on the game field after that. If there is a track from the ball to the empty cell ball will be moved to this field. When you put 5 or more balls with similar color in one line (horizontal, vertical or diagonal) line of balls will be removed and you will get score points. Every time when ball is moving and no line is removed 3 new balls will appear on the field. 3 cells at the top of the window show what will be the color of next 3 balls. The game is over when all cells are filled with balls. Game settings allow you turn on/turn off sound and tips. When tips are turned on the location of the new balls is shown on the field with small dots of the same color.
Manco Silverlight Lines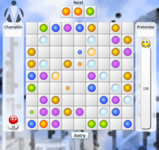 You can also play our silverlight version of this game for free!